DJI Ronin-S Gimbal Stabilizer - Standard Kit (DJI Refurbished)
Regular price $389.00
Learn More About Financing Your Purchase >
Tested By Experts. Ready For You.
Every DJI Refurbished aircraft is thoroughly tested by DJI Experts and includes DJI standard warranty.
There are no better experts in DJI products than those at DJI. Every refurbished product has undergone a professional refurbishing process that brings it up to the same high standards as brand new products, and all refurbished products come with new parts, new packaging and DJI's standard Manufacturer Warranty. If you are not happy with a refurbished product and have not yet activated it, you can return it within seven days of receipt for a full refund or a replacement refurbished product.
DJI Refurbished Product FAQ
Q1. WHAT ARE DJI REFURBISHED PRODUCTS?
The products sent back by customers within seven days after he/she confirms receipt will be strictly examined, refurbished and repackaged, and sold as DJI refurbished products. Currently offered DJI refurbished products include the Phantom 3 Standard/Advanced/Professional and Phantom 4.
Q2. ARE DJI REFURBISHED PRODUCTS' QUALITY GUARANTEED?
DJI promises you that every refurbished product is tested thoroughly, and that the quality and the appearance of refurbished products is the same as with new products.
Q3. WHAT KIND OF AFTER-SALE SERVICE ARE DJI REFURBISHED PRODUCTS ELIGIBLE FOR?
The after-sale service policy for DJI refurbished products is identical to that of new products. However, refurbished products can only be exchanged for refurbished products, not new products.
Q4. HOW CAN I BUY THE DJI REFURBISHED PRODUCTS?
The refurbished products are available on the DJI Online Store and other online platforms such as eBay. The refurbished products can also be purchased from DJI's authorized dealers.
Q5. HOW DO I IDENTIFY REFURBISHED PRODUCTS?
The serial number of refurbished products will end with an "R".
Q6. WHAT IS INCLUDED IN THE PACKAGE?
Refurbished models include everything that is found in a new package.  
---
With the Ronin-S, DJI just made it truly affordable to mount a DSLR or mirrorless video camera on an effective, versatile single-handed gimbal.
The Ronin-S is an ergonomically designed grip and gimbal with a payload big enough to do the work of independent filmmakers, commercial videographers, and newsroom camera operators, but it's priced within reach of many advanced amateurs. The gimbal motors are strong enough to handle most DSLR and mirrorless cameras with interchangeable lenses, including zoom lenses and telephotos. It also supports the Manfrotto 501PL type quick-release system, making it compatible with many other tripod and fluid head systems.
The battery life is adequate for a full day—even a long, ambitious day—of shooting. And the Ronin-S itself can be mounted to a tripod, extension pole or radio-controlled buggy. It is compatible with DJI and third-party accessories.
DJI Ronin-S features:
Handle: Non-slip ergonomic rubber grip; front-facing trigger, rear-facing mode button for speed and responsiveness, multidirectional joystick, side-mounted focus knob, direct camera control
Weight: 4.1 lb., balanced weight distribution
Payload: 8 lb. on gimbal
Gimbal: 3-axis, motorized
Battery: Internal to handle; 12-hour runtime
Camera screen view: Unobstructed
Programmable control: Downloadable Ronin-S app
Second operator: Available with optional remote controller
Connectors: 8-pin for optional external start/stop control; two 4-pin for optional external focus motor and onboard power; CAN bus for wireless receiver
Compatible cameras: DSLR and mirrorless models from Canon, Hasselblad, Nikon, Panasonic, Sony
Stable Video
Shake-free video requires two things: a smooth, quality gimbal and a design that lets the camera operator move freely. The DJI Ronin-S has both.
The Ronin-S is equipped with a motorized 3-axis gimbal that stabilizes the camera for pitch, roll and yaw. It even stabilizes while recording quick action. The motors in the gimbal are whisper quiet. The rubberized Ronin-S handle is designed for a secure, steady, one-handed grip, letting the operator move with the action without losing control. The Ronin-S comes with a short tripod that, when closed, doubles as a handle extension for extra-secure two-handed grip, including in flashlight mode.
Because the Ronin-S is compact and balanced, it is easily passed through windows and doorways, over walls, and up or down stairs. It excels in follow work, hoists easily to function as a miniature boom, and works its way through crowds. Shooting inside a vehicle or from the interior? Both just got easier.
The SmoothTrack program further eliminates unwanted movement by enabling the gimbal to compensate for operator movements on the pan, tilt and roll axes. No second operator is needed to input those corrections remotely.
Mounting Versatility
The Ronin-S doesn't have to be handheld. Mount it to a tripod, a car, an RC buggy, a dolly, a cable, a boom or a jib. When car-mounted, the gimbal motors can function at vehicle speeds up to 46 mph. (If you mount with a device equipped with suction cups, make sure you don't go beyond the capabilities of the mount.) The Ronin-S also works with the Manfrotto 501PL type quick-release system, which means it will fit any number of available mounts, some of which you may already have.
For more flexible handheld use, a monopod can be attached to allow the camera operator to reach tight spaces with what becomes, essentially, an extended handle. The long monopod also promotes use as a boom or in place of a jib.
Building an Ecosystem with Accessory Mounts
A handheld gimbal works best with an ecosystem that provides a range of accessories, and the Ronin-S accepts many. Mount a microphone, lights and an external monitor. Mount a DJI Pro Wireless Receiver and connect wirelessly to DJI Master Wheels and DJI Force Pro for intuitive, precise camera and gimbal movements. Connect third-party remote controllers via the S-Bus port on the Ronin-S.
Creative Modes
Five programmable functions make it easy to achieve sophisticated video effects:
Capture: Use the app to control the camera, record with the trigger or take a photo.
Panorama: All you need to do is plug in your camera information and the span of your photo. The app does everything else.
Timelapse: Set the shutter, aperture, ISO, exposure value, white balance, shutter interval, duration of the timelapse, and frame rate. The app tells you how long the video will take to record.
Motionlapse: Set the same values as in Timelapse but program in motion and the tripod-mounted Ronin-S will move the camera automatically.
Track: Similar to Motionlapse, Track lets you set as many as five waypoints in recording a video.
Multiple User Memory
No longer will multiple users have to redo settings after every single use by a colleague. Ronin-S remembers settings for up to three users. The settings also can be input to the Ronin-S memory for different conditions or scenes, then activated with the memory button.
Focus Wheel
The Ronin-S comes standard with a side-mounted focus wheel and a cable to connect the wheel and camera. DJI is working toward pull focus for more models and will make the capability available to more cameras and lenses in continual firmware updates. Here's where to check compatibility and planned firmware updates.
An external motor also is available from DJI for improved pulled focus.
Compatible Cameras, Lenses
Just about every popular DSLR and mirrorless digital camera is compatible with the Ronin-S. That includes cameras from Canon, Hasselblad, Nikon, Panasonic and Sony. Firmware updates will continue to expand compatibility for camera models as DJI develops them. The Ronin-S ships with a camera riser for Sony models to make them compatible and with a support to steady long lenses.
DJI publishes a complete list of compatible cameras and lenses, including cables needed for particular functions.
Sport Mode
To capture especially quick movements, the Ronin-S can be switched to Sport Mode. It's done simply by pushing and holding the Mode ("M") button while recording. The camera will change positions more quickly in Sport Mode. Sport mode ends when the button is released.
Auto Tune and Torque Control
Auto Tune is accessed from the handle and set up with the app. It allows the operator to adjust the torque of the gimbal motors to suit the scene. Three levels of gimbal motor aggressiveness are available.
Auto Tune also helps to maintain balance, depending on the weight of the camera. Those values can be set manually or set on automatic. When set to automatic, the gimbal motors self-adjust to camera weight. Torque will increase for heavier cameras and lenses, and decrease for lighter setups.
ExpoDrone Support
As always, DJI equipment purchased from ExpoDrone is backed by the knowledge of on-staff videographers who know the equipment, and experienced DJI-trained technicians who can troubleshoot problems. Service, when needed, is quick, convenient and expertly completed.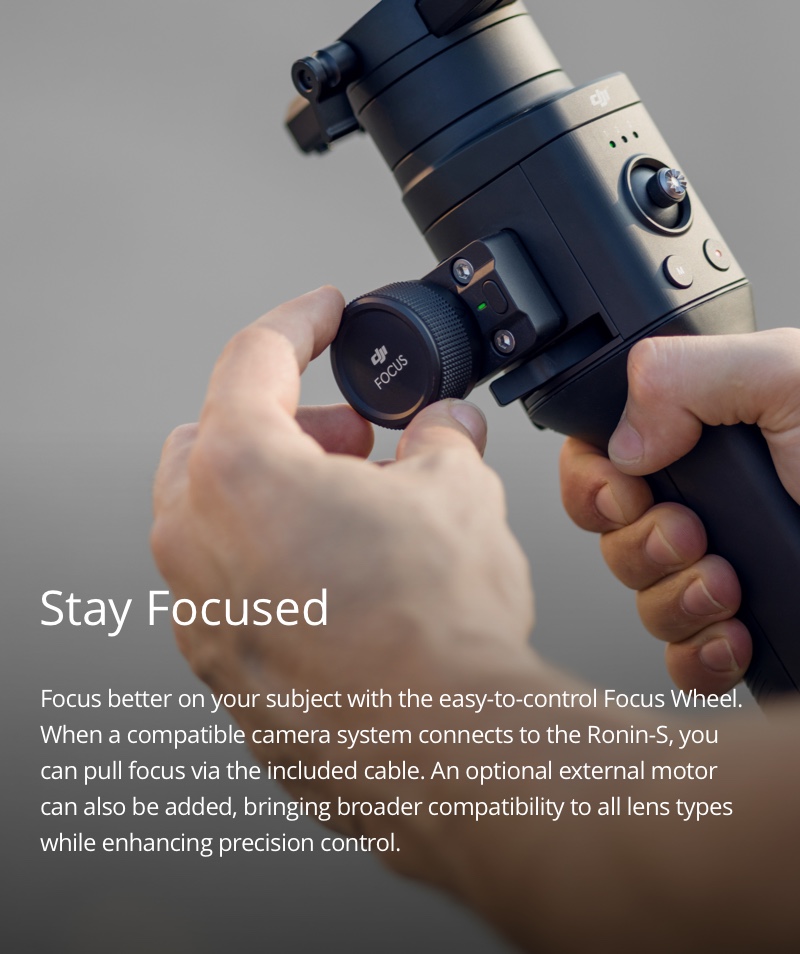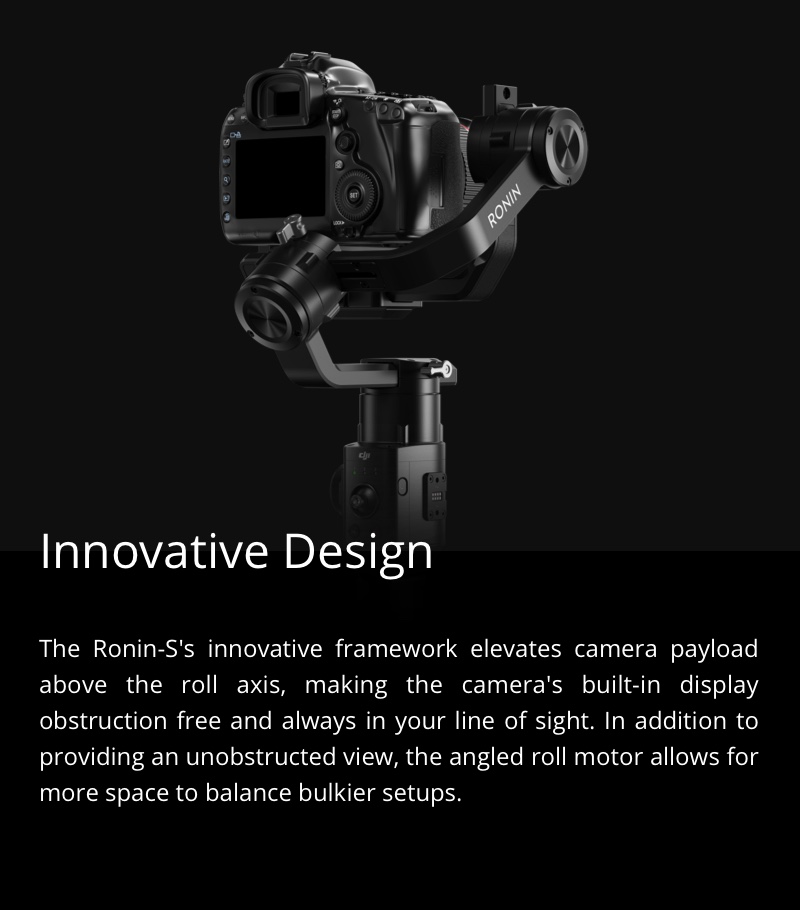 What's in the box? Ronin-S comes with everything you need to get right to work: Gimbal, handgrip with internal battery, camera-mounting plate, focus wheel, RSS IR control cable, 2 multi-camera control cables (Type B and C), lens support, camera riser for Sony cameras, extended grip/mini tripod, USB-C cable, 24W USB power adapter, accessories box, Allen wrench, hook-and-loop strap for cable, hook-and-loop strap for gimbal, carrying case.
people are currently looking at this product
Estimated delivery time 3-5 days